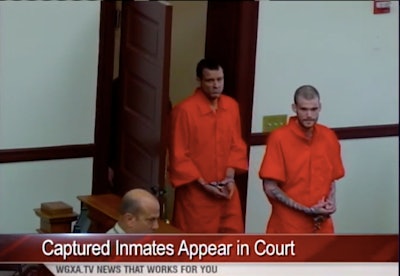 The two men accused of shooting and killing Georgia Department of Correctional officers before escaping from custody appeared in court on Wednesday morning in Putnam County. The state has said it will pursue the death penalty in the case.
Baldwin State Prison inmates Donnie Russell Rowe and Ricky Dubose were captured near Murfreesboro, Tennessee last week.
Authorities say Rowe and Dubose shot and killed the two corrections officers on Highway 16 between Putnam and Sparta last Tuesday then escaped from the Georgia Prison bus on which they were being transported.
At the hearing, Judge Brenda Trammell first informed Dubose that he was being charged with two counts of murder for killing Christopher Monica and Curtis Billue, one count of motor vehicle hijacking and felony escape. He was also informed of his rights.
Judge Trammell then informed Rowe that he was also being charged with the murders of Monica and Billue, felony escape and motor vehicle hijacking. The judge also informed him of his rights, WGXA TV reports.