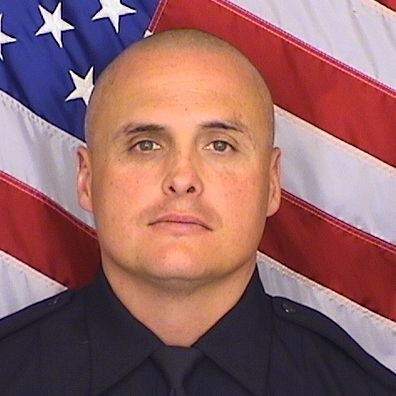 Det. Dan Brite of the Douglas County (CO) Sheriff's Office was shot last September and seriously wounded. He didn't wake up from a coma for three months and cannot walk because of his injuries.
Now, an officer who survived similarly life-threatening injuries is reaching out to help Brite.
Officer John Adsit, forced to medically retire from the Denver Police Department after he was hit and dragged by a driver suffering a seizure, formed non-profit charity Adsit Strong to help other officers and first responders badly injured in the line of duty. The charity hopes to raise money to get an off-road wheelchair for Brite, KTTV TV reports.
"We all believe that through prayer and advanced medical procedures, Dan will be able to walk on his own someday," Adsit Strong said in a statement Thursday. "However, in the meantime, the inability to walk is inhibiting his ability to enjoy normal activities and hobbies ... This amazing hero loves hunting, fishing, and enjoying the outdoors with his family and friends."
The charity has teamed up with fellow law enforcement non-profits MC-1 Foundation and Shield 616 to raise money to outfit Brite with an Action TrackChair.
To donate, all you need to do is click here. An orange "Donate" button can be found in the upper-right corner.