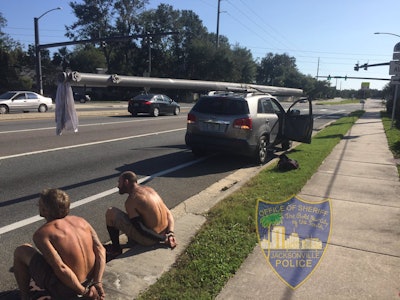 Two men were arrested Wednesday after an officer found a utility pole strapped to the top of a vehicle in Jacksonville, FL, days after Hurricane Irma spawned severe flooding in the city, as cops across the state work overtime to nab thieves impeding recovery efforts, reports Fox News.
The Jacksonville Sheriff's Office tweeted a picture of the shirtless men sitting handcuffed on the sidewalk.
"These two were caught stealing a JEA pole just this morning! Citizens watching out and officers cleaning up = partnership! #Irma #JSO," the sheriff's office wrote.
The arrest came even as Florida officials work feverishly to restore power statewide. As of Thursday morning, 2.6 million customers, roughly 25% of the state, were still without power -- down from 15 million people only two days ago.
Police said 42-year-old Blake Lee Waller and 46-year-old Victor Walter Apeler were arrested on grand theft charges after someone reported seeing them load the pole onto a sports utility vehicle.