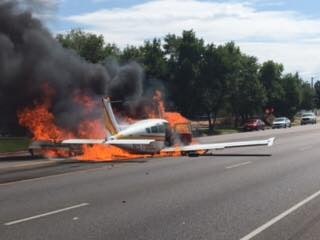 When a single-engine aircraft crashed into a street in Roy, UT, Tuesday, an off-duty Ogden police officer was on scene to render aid to the pilot and to escort him to safety from the burning plane.
The pilot, 63, and a woman, 43, driving on the road walked away with only minor injuries, authorities told the Deseret News. Roy police did not release their names and hometowns Tuesday.
The Beechcraft airplane was attempting an emergency landing about 1:30 p.m. It went down a mile southwest of the Ogden-Hinckley Airport, Federal Aviation Administration spokesman Allen Kenitzer said in a statement.
"We are proud of our officers and their willingness to protect and serve the community while on and off duty," an Ogden Police Department Facebook post said. The department declined to make the officer available for an interview, saying the officer didn't want the attention.