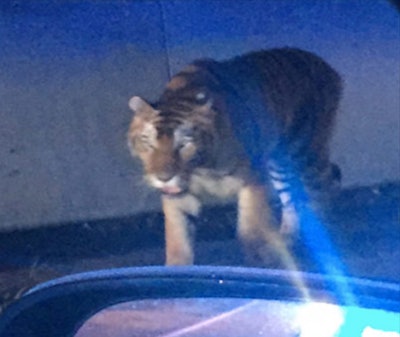 Henry County, GA, police shot and killed a tiger roaming one of the Atlanta suburb's neighborhoods early Wednesday morning.
The tiger, which was also spotted on I-75, was attacking a dog in a backyard around 6 a.m. when officers made the decision to fire.
Police said one of the primary reasons they decided to kill it was because children would soon be heading to school bus stops, and they were afraid the animal might attack a child.
Brittney Speck, who owns the dog in the incident, told WSB TV that when she went to her back window to check on her Dachshund, she saw the tiger in her neighbor's yard along the side nearest her yard and called 911.
Soon after, the tiger jumped on her dog, Speck said.
"And the officers I guess just started firing rounds and took it down and then gave me my dog back," Speck said.
The dog is OK.
The owner of the tiger has not been identified.