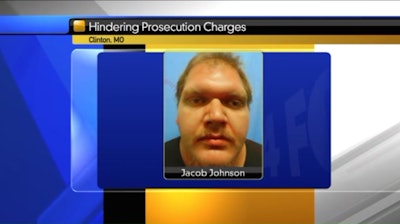 The Missouri Highway Patrol says that a third man is under arrest and facing a charge in the deadly shooting of Clinton Police Officer Gary Michael, and he's the second suspect accused of tampering with the investigation.
Jacob M. Johnson, 27, is accused of hindering the prosecution of a felony. What criminal action he's accused of specifically hasn't been revealed yet, reports WDAF-TV.
Johnson was first arrested on August 9, three days after the Sunday when Officer Michael was shot and killed while conducting a traffic stop. Jail records show he was released on August 11, and he's been taken back into custody in Henry County. Jail records show he was booked at 6:40 p.m.
He's being held on a $25,000 cash-only bond.