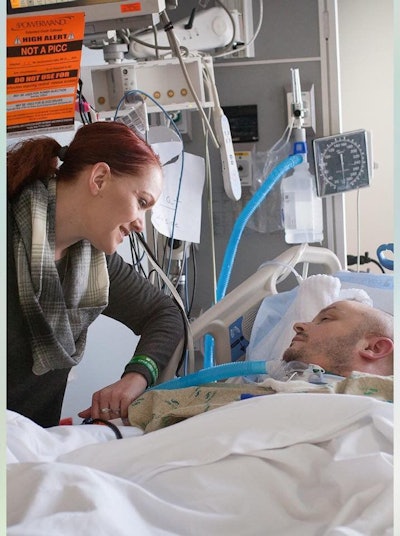 After a nearly monthlong battle for his life since being shot in the back of the head by a handcuffed suspect, Officer Ryan O'Connor has opened his eyes and is breathing on his own, the Arnold (MO) Police Department said Thursday night.
O'Connor, 44, was shot by a burglary suspect riding in the back of his police SUV on Dec. 5. Police say Chad Klahs, 29, of Arnold shot O'Connor before fatally shooting himself, all while handcuffed.
O'Connor survived the five-hour surgery that followed but in the weeks since continued to receive medical treatment that included more surgeries and a medically induced coma, the St. Louis Post-Dispatch reports.
Arnold police posted a short update on Facebook on Thursday night that it said came from O'Connor's family.
"Ryan has made some small but significant improvements," the posting says. "He is breathing on his own and the ventilator has been removed. He also gave us a great surprise by opening his pretty blue eyes.