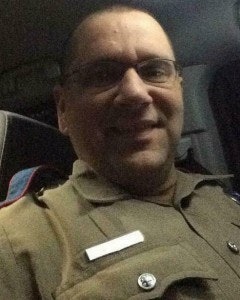 A Texas state trooper was shot and killed during a Thanksgiving traffic stop near Fairfield. A suspect is in custody.
Trooper Damon Allen, 41, was reportedly shot and killed shortly before 4 p.m. by a man using a rifle. DPS said Allen joined the department in 2002 and was married with three children.
Dabrett Black, 32, of Lindale, Texas, was apprehended about five hours after the shooting in Hempstead, about 110 miles south of Fairfield, NBCDFW reports.
Black is charged with capital murder of a peace officer, among other charges.
The Texas Department of Public Safety Director Steven McCraw said in a statement Thursday night "Our DPS family is heartbroken tonight after one of Texas' finest law enforcement officers was killed in the line of duty. Texas Highway Patrol Trooper Damon Allen was a loving husband and father of three, and we ask for your prayers for his entire family and his many friends and colleagues during the difficult days ahead. Trooper Allen's dedication to duty, and his bravery and selfless sacrifice on this Thanksgiving Day, will never be forgotten."