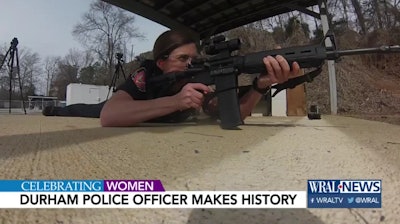 VIDEO: Georgia Officer Dragged 1 Mile While Suspects Toss Guns from Car
In situations that involve active shooters or domestic violence, police sharpshooters are the first to respond. For the first time, the Durham (NC) Police Department has two sharpshooters who are women.
Three years after becoming a police officer, Officer Lauren McFaul made history in 2018 as the department's first female sharpshooter, reports WRAL.
At 35 years old, McFaul, who had stayed at home to raise her daughters, made the bold, late-career change to join the police force.
To the surprise of many, she had no previous experience with rifles.
"I literally never touched a gun," McFaul said. Of making history by joining the sharpshooter team she said, "It's a little shocking that it's happening in 2018. But it's nice to be a first."
The sharpshooter team is an elite group and is the first to respond to the most dangerous calls.
McFaul said it's an honor to be the first female to reach such a prestigious level within the force, and she hopes to inspire more women to reach elite levels or leadership positions, including her daughters.