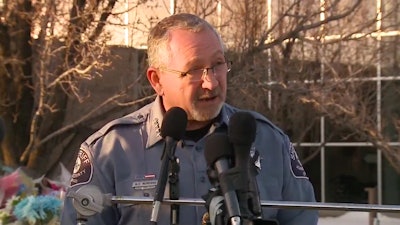 VIDEO: No Additional Suspects Sought in Death of CO Deputy
The Adams County (CO) Sheriff's Office is no longer looking for additional suspects in the shooting death of a deputy Wednesday night in Thornton, reports KUSA.
The sheriff's office held a news conference on Thursday to clarify that despite earlier reports from law enforcement, a pair of suspects is not believed to have had anything to do with the death of Deputy Heath Gumm.
Those two other people were located and interviewed on Thursday, and have since been released, according to a release Friday morning.
The suspect who fired on police and shot Deputy Gumm was taken into custody at the scene, according to deputies. Jail records reveal Dreion Martise Dearing, 22, is being held for investigation of first-degree murder and two of counts of first-degree murder of a peace officer at the Adams County Jail.