Eugene, OR, school officials say they're still working with police on the possibly unlawful removal of immigrant-friendly posters in a grade school, reports KLCC.
The top of the posters read "IMMIGRANTS WELCOME" – and were hung in hallways and classrooms at River Road /El Camino del Rio Elementary. But part of the poster said, "The border is not a wall…It doesn't keep out predators; it gives them badges and guns."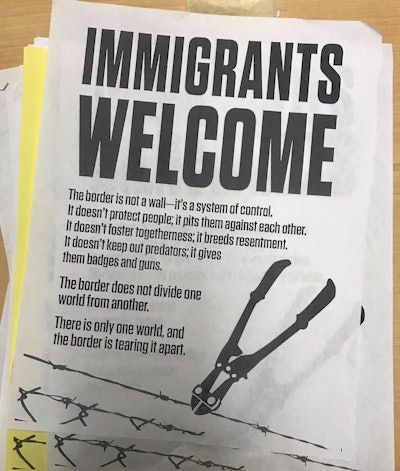 4-J officials say they believe a contractor took them all down over winter break. The suspect shared photos of the posters on Facebook, prompting accusations of student indoctrination from his friends. The post has since been removed and the contractor barred from the school.
"It wasn't the 'IMMIGRANTS WELCOME', it was what was below that, that spoke about the border wall and that was where it gets a bit tricky with the politics of it all," says 4-J District Superintendent Gustavo Balderas.
"As of right now, we welcome any immigrant posters that are up anywhere across the district," says Balderas. "It's making sure that again we use language that does not politicize this statement. It, this…it's not a political statement, it's "immigrants welcome," we welcome all students."