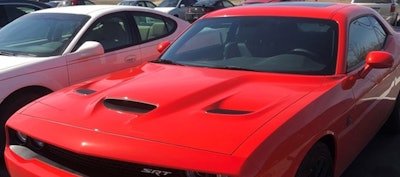 A Wisconsin man landed in the LaPorte County Jail after police say he was going 160 mph on the Indiana Toll Road, reports WTHR.
Police say the Orange Dodge Challenger Hellcat passed an Indiana State trooper at a high rate of speed Tuesday night. Another trooper eventually stopped him.
The driver of the Hellcat, identified as J. Jesus Duran Sandoval, age 38 of Lake Geneva, WI, was allegedly driving on an expired driver's license.
Sandoval told police he was driving a bit more than 160 miles per hour and just trying to get to Maryland. He was arrested on a preliminary charge of Reckless Driving and taken to the LaPorte County Jail.