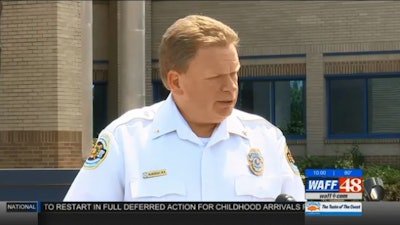 VIDEO: Alabama Officer Indicted on Murder Charge in Fatal Shooting
An officer with the Huntsville (AL) Police Department who in April had responded to a call of an armed suicidal subject has been indicted on a murder charge for shooting that man.
According to court documents, 25-year-old officer William Darby was one of three responding officers who confronted 49-year-old Jeffrey Parker, who reportedly had a gun and refused to drop it, according to WAFF-TV.
Despite the fact that an Incident Review Board cleared all three officers of any wrongdoing — saying that all officers involved had performed within Huntsville Police Department policies, procedures, and training — Madison County District Attorney Robert Broussard decided to present the case to a grand jury.
In a written statement, Huntsville Police Chief Mark McMurray said, "Officer Darby was called upon to make split second decisions in a nightmare scenario, the likes of which most people will never experience. His training allowed him and his fellow officers to survive as he rushed bravely, without hesitation, into one of the most volatile and unpredictable situations a police officer is called upon to face. Officer Darby performed his duties in accordance with his training. He is by no means a 'murderer.'"
Chief McMurray said further, "Had Officer Darby not acted decisively, we could have been here today to add yet another officer's name to the memorial wall behind me. Officer Darby will continue to have the full support of the Huntsville Police Department as he awaits his day in court, where the totality of the circumstances surrounding his actions will be presented to a jury.