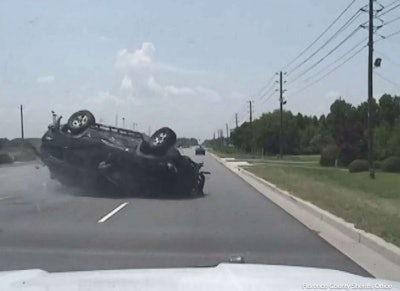 VIDEO: South Carolina Pursuit Ends With Driver Ejected From SUV
Deputies from the Florence County (SC) Sheriff's Office were led on a lengthy and dangerous pursuit of a 24-year-old woman driving a black SUV. The chase ended when police performed a PIT maneuver. The driver—a woman identified as Brittany Jeffords—was ejected from the vehicle as it rolled over on the highway.
Jeffords was taken to a nearby hospital in serious condition, with non-life-threatening injuries, according to ABC News.
Jeffords has been charged with four offenses, including two counts of failure to appear in court, one count of driving with a suspended license and one count of failure to stop for police.