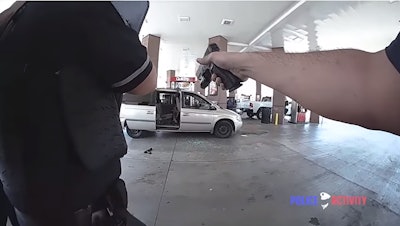 VIDEO: Tulsa Officer Wounded in Gunfight Stays in the Fight
The Tulsa (OK) Police Department released body-camera video footage of an officer-involved shooting that left one officer wounded during a traffic stop in the parking lot of a local QuikTrip gas station and mini-mart store on July 3.
During the stop, Sergeant Michael Parsons fired a PepperBall at 34-year-old John Terry Chatman Jr., who then allegedly drew a gun and started shooting at the officers, according to Tulsa World.
"As soon as Sgt. Parsons deployed the PepperBalls, Chatman obtained a .32-caliber revolver handgun … and fired four times," an investigator wrote in an affidavit.
Parsons was struck in the leg.
Tulsa police spokesman Shane Tuell said that Parsons "continued to command the scene after he was shot… I can tell you I don't know a whole lot of people with that work ethic."
Parsons was released from the hospital that evening and is now on medical leave.