President Donald Trump used a White House event Monday to honor officers of the U.S. Immigration and Customs Enforcement and the Customs and Border Protection.
"We love you, we support you, we will always have your back," Trump said. He added: "For America to be a strong nation, we must have strong borders."
Trump has assailed some Democratic lawmakers for seeking to abolish ICE ahead of the November midterm elections. In a letter to state and local leaders, Trump wrote that ICE workers had been subjected to a "nationwide campaign of smears, insults and attacks" by politicians "catering to the extreme elements in our society," Q13Fox reports.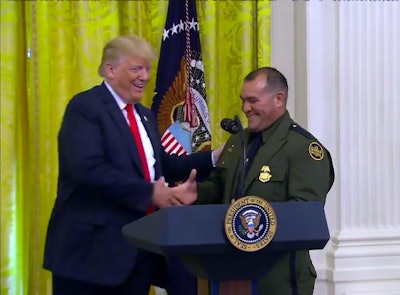 Republican Sen. David Perdue of Georgia, who has worked closely with the administration on immigration legislation, said he struggled to see the point of eliminating the federal agency, likening it to someone saying, "I want to get rid of the Marines."
"I just think it's unconscionable, and frankly, I think it's downright unpatriotic and treasonous," Perdue said.