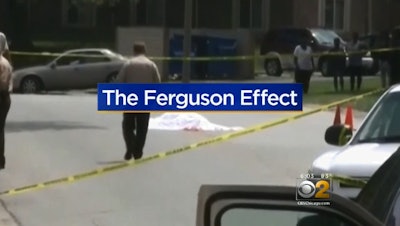 VIDEO: Chicago Officer More Afraid of Media Scrutiny than Dying on Duty
A 20-year veteran officer with the Chicago (IL) Police Department — speaking anonymously and with a concealed face and voice — told a local television news station that he is "more concerned about what the media is going to think about me, what they're going to put on the news, or how I'm going to be portrayed as this evil person" than of being killed in the line of duty, according to CBS Chicago.
When asked what his biggest fear is right now on the job, the officer responded: "Seeing my family and my friends have to deal with me being put on the news."
He added, "I've never been afraid of being hurt on this job or killed on this job."
Citing the "Ferguson effect," the officer said that police have retreated from proactive policing, causing a subsequent increase in crime in some areas.
"There's a lot of officers out there that are still doing work, even given the climate that they're in right now, but there is some hesitancy on wanting to be aggressive and doing police work the way it needs to be," he said.