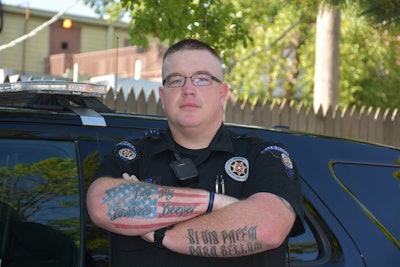 Cleveland County, OK, Sheriff's Deputy Kyle Turner has been nominated for HAIX Hero of the Month for his daring rescue of a man trapped in a burning car.
On the night of Oct. 3, 2018, a 2008 Chevy Cobalt 2-Door Sport went off the road in rural Cleveland County, took out two power poles, and dropped the power lines. Turner, who is a patrol deputy and a volunteer firefighter for Cedar County Volunteer Fire when not on duty, received an alert about the crash while he was returning from a hunting trip. First on the scene, Turner saw the car was on fire and power lines were down. "I could hear somebody yelling for help," he said.
Turner pulled on his firefighter gear due to the extreme heat and jumped over downed power lines to pull the man out of the immediate danger zone. The man suffered injuries to his legs and could not walk. Turner said he wasn't thinking about the danger at the time.
"All I knew was a man needed help and if I didn't help him, he might not be here today," Turner said. "I believe God put me where I was that night on purpose."
Master Sgt. Brandon Dominic and Deputy Chazdon Anderson arrived on the scene shortly thereafter and helped Turner pull the man the rest of the way to safety. Turner said the rescue was truly a team effort due to the man's size and the number of downed power lines.
"All the deputies involved risked their lives due to the downed power lines," Patrol Supervisor Lt. Michael Russell said. "The power lines were arcing long after the accident while we waited for electric crews to arrive. I thank God that they (deputies) were being watched over and kept safe. The intense heat and the man's size were big challenges that Deputy Turner overcame. Deputy Turner never gave up the fight to save that man's life. I know, without a doubt, the victim was only moments from death when our deputies arrived."
The man's family later contacted the Cleveland County SO to thank the deputies and let them know the man was doing well.
To vote for Deputy Turner as HAIX Hero of the Month, give him a "like" on the POLICE Magazine Facebook page.
The winner of HAIX Hero of the Month for October will be the officer receiving the most "likes." The winner will be named next week and will receive a pair of boots from HAIX.