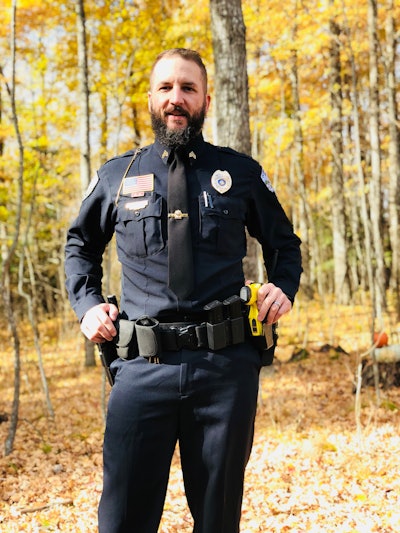 Oconto Falls, WI, police officer Keith Fischer has been nominated for HAIX Hero of the Month.
Fischer was submitted for the honor by Oconto Falls firefighter Dakota Winkler, who credits the officer not just for his community service but for his work with kids, including the young Winkler. The firefighter says Fischer pushed him to be the best he could be. "I was in high school, and I was taking EMT classes on top of working at a sub shop. Often times when I was working he would come in, order his sub, and when it was slow, we would sit down and talk about life like a father talks to his son. He really encouraged me to keep going and better myself even though the hours and all the combined homework was grueling and daunting," Winkler wrote.
Winkler says he is still learning from Fischer's dedication to duty. "He definitely stands out to all of us firefighters for going above and beyond his call of duty on the regular. I recall one time in the middle of our cold, Wisconsin winter when we had a hazmat call for a semi that slid down a road and tore its fuel tank open. Keith was the officer that responded. He got out of his nice, warm patrol car, and he helped us set up traffic cones, secure the perimeter, and direct traffic. He was not required to do any of this, especially in the freezing cold blizzard, but he went the extra mile because he knew it would help us out."
To vote for Officer Fischer as HAIX Hero of the Month, give him a "like" on the POLICE Magazine Facebook page.
One more law enforcement officer will be nominated in October for HAIX Hero of the Month. The winner will be the officer receiving the most "likes." The winner will be named on the final Monday of October and will receive a pair of boots from HAIX.
Do you know of a deserving law enforcement hero? Nominate them today for HAIX Hero of the Month! Submit their nomination HERE.