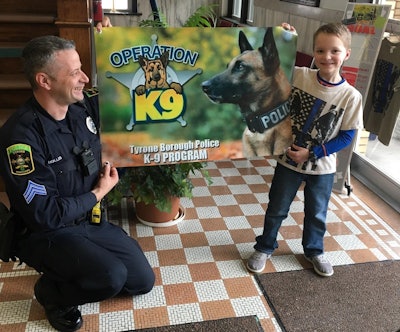 An 8-year-old Pennsylvania boy asked for a special gift for his birthday. The twist was that he wanted nothing for himself—he wanted to donate money to the local police department's K-9 Unit.
The Tyrone Borough (PA) Police Department posted on Facebook, "Today we had a very special visitor. Cole Stine donated $500 to the K-9 fund. Instead of presents this year he asked for donations so he could help the Police Department K-9 fund! Thank you Cole for going above and beyond and realizing how important this K-9 officer is to this department!"
The Domino's Pizza franchise in Tyrone will also be donating a portion of one day's sales to the fund.
A local house of worship will be hosting a spaghetti dinner fundraiser to benefit the K-9 program as well.
"Chief Romeo and Officer Beall traveled to Shallow Creek Kennels yesterday and were able pick a dog that will begin training with Officer Beall in March!" the agency said on Facebook. "We are very excited to see just how much support we have been getting from the community and it is this support that is fast making our goal a reality! Thank you!"