Police in New York City have arrested three men in connection with the water bucket attacks in which police officers were doused with water in videos that were posted to social media on Monday.
According to Fox News, the department announced on Twitter that one of the offenders wanted for dumping a bucket of water on a police officer in Brooklyn had been apprehended. He is reportedly a gang member.
---
Related: New York PBA President Livid Over "Water Bucket Attacks" on Officers
---
Two other arrests came quickly thereafter.
The three men—identified as Courtney Thompson, Isaiah Scott, and Chad Bowden—face varying charges including disorderly conduct, harassment, criminal mischief, and obstructing government administration, among other offenses.
The charges against Scott and Boden are for allegedly throwing water on a female friend and damaging her cell phone during the incident in Harlem, WABC reports.
That water tossing immediately preceded the officer being struck by the bucket, but police are still searching for the person who threw it.
---
Related: Video: New York Subway Rider Verbally Abuses Police Officer
---
The NYPD also told its police officers they "are not expected to tolerate" having water thrown on them, after the viral videos surfaced of the incidents.
In an internal message to the rank and file, the department told officers that such behavior would almost never rise to a crime, but interfering with police work is a crime, reports WABC.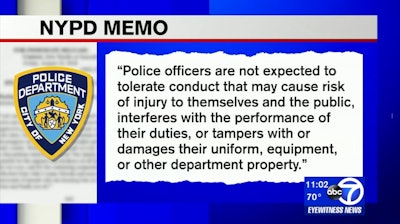 The officers were told that charges available to them would include obstructing government administration, criminal tampering, harassment or disorderly conduct.
If the officer's uniform was damaged, criminal mischief would be applicable. If an officer is injured by a water spray or a thrown object, the attacker could be charged with felony assault.