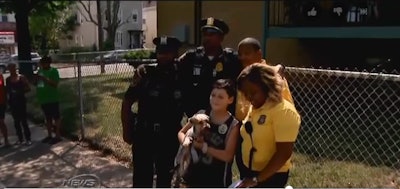 Police officers with the Newark Police Department have donated a new service dog to a 10-year-old boy with autism after learning that his previous dog had died when it was struck by a car.
According to New Jersey News 12, 10-year-old Frankie Velez and his dog were hit by a car while out for a walk in their neighborhood not long ago.
Newark Police Officers Malikah Muhammad and George Hiens took the lead on finding Velez a new service dog.
The officers presented Velez with a five-month-old Yorkie on Tuesday afternoon.
The boy named the dog "Blue."