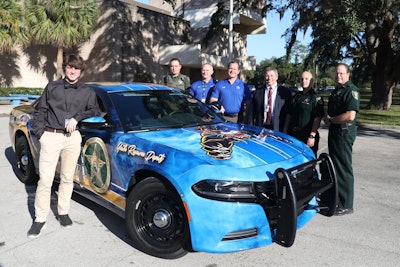 When the Putnam County (FL) Sheriff's Office made the determination that a replacement vehicle was more financially sound than continuing to maintain one of its aging patrol cars, they enlisted the assistance of students from a local high school to come up with a design for the exterior paint.
The agency issued a design contest among students at Palatka High School, where Deputy Doug Kennedy would patrol when the new car would be delivered.
That contest was won by Curtis Moore, a senior at the school with the school mascot—a panther—emblazoned on the hood and a panther's claw on the side doors.
The agency posted an image of the new car on Facebook with the caption reading, in part, "Curtis's design was over-the-top amazing and more than we expected. We hope the community loves the new look of the car as much as we do.
Sheriff DeLoach, Superintendent Surrency, Principal JT Stout, Colonel Wells, Major Rose, and Deputy Kennedy joined Curtis for the unveiling, which happened just in time for the school's homecoming celebration and pep rally.
The social media post continued, "Our hope is this will open more conversation between our youth resource deputy and high school students."