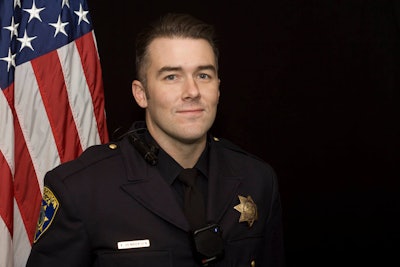 The Pleasanton (CA) Police Department is mourning the loss of Officer Kyle Henricksen, 36, after a yearlong battle with pancreatic cancer.
In a Facebook post the agency said, "Kyle left us all with a sense of awe and amazement in his courageous and remarkable fight, defying odds and exhibiting amazing strength with a smile he shared so easily and so frequently with others. Kyle touched us all in ways that we will be forever grateful. Now we reflect on our time with Kyle as a gift in each of our lives."
Pleasanton City Manager Nelson Fialho said, "I'm very saddened by the loss of Kyle, our co-worker and friend. He was an exceptional officer and his presence will be missed in our organization and community. On behalf of the City, we are eternally grateful to Kyle and his family for the decade of service to Pleasanton and will be honoring his life and service to the community by lowering flags to half-staff at our city facilities for the remainder of the week."
Officer Henricksen had served in both patrol and motors with Pleasanton PD after having served three years with the Alameda County (CA) Sheriff's Office.