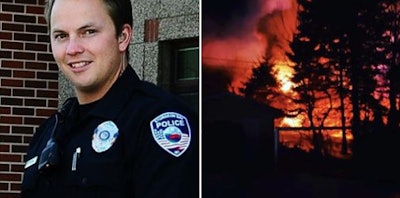 An officer with the Sturgeon Bay (WI) Police Department is being hailed as a hero for saving the life of a disabled man trapped in a burning apartment complex last weekend.
The department posted on Facebook, "Dispatch advised heavy smoke and flames could be seen coming from the building and a disabled resident was still inside the burning apartment. Sgt. Tassoul of the Sturgeon Bay Police Department arrived approximately two minutes later and was frantically greeted and told by other residents who had escaped, that a disabled man was still inside the burning apartment complex."
Sgt. Tassoul entered the building where the man was believed to be located but was unable to find him. As he was exiting the thick smoke, he learned that he had been given incorrect information about the man's location and had entered the wrong part of the building.
Tassoul doubled back and found the man, unconscious and unable to move without assistance.
"We would like to commend Sergeant Markus Tassoul for his bravery and life saving efforts!" said Captain Daniel Brinkman in the conclusion of the social media post.