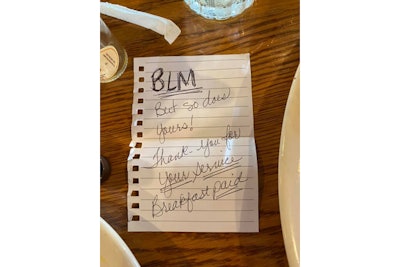 Two African American women paid for a Tennessee deputy's breakfast at a Nashville restaurant earlier this week, leaving a heartfelt note for the deputy as well.
Deputy Jody McDowell of the Sumner County (TN) Sheriff's Office posted on Facebook an image of the note the women left for him, saying, "I want to thank the two sweet black ladies who paid for my breakfast this morning."
The note the women left for McDowell read, "BLM [Black Lives Matter] but so does yours! Thank you for your service. Breakfast paid."