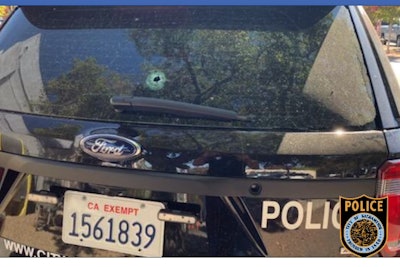 Police in California are searching for an alleged gunman who opened fire on a sergeant with the Sacramento Police Department on Wednesday night.
According to the San Jose Mercury News, police say the suspect—identified as 50-year-old Albert Wheeler—fired on a sergeant who had responded to a home following calls of a suicidal subject armed with a gun.
Chief Daniel Hahn said in a videotaped statement posted to the agency's Facebook page that Wheeler had fled the scene in a vehicle and led police on a brief chase through the neighborhood.
As the pursuit continued, a sergeant—whose name has not been released—returned to the home to check on the welfare of the family. Wheeler then reportedly drove past and opened fire, striking the sergeant's patrol car several times.
The truck was found abandoned Wednesday about 1.5 miles from the shooting scene.
The gunman then reportedly fled the scene and abandoned the vehicle a mile and a half away.
Hahn said during the video, "We're very thankful that our sergeant went back to that house and was able to get that family to safety and was able to get himself to safety behind that squad car."