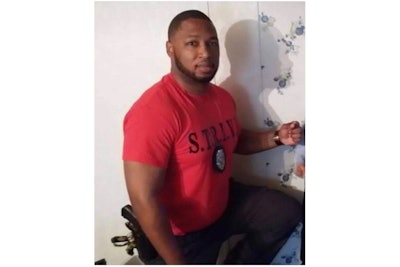 An Arkansas police officer was shot and killed in a gunfight Thursday evening as he tried to arrest a suspect in another shooting. Two suspects are in custody.
The slain LEO has been identified as Helena-West Helena, AR, police officer Travis Wallace, 41.
Arkansas State Police told WMC TV that Officer Wallace and other officers were searching for Latarius Howard, 29, in connection with a separate shooting a week earlier. Wallace spotted Howard around 6 p.m. Thursday in an SUV leaving a motel parking let in Helena-West Helena.
Wallace blocked the SUV with his own patrol vehicle and Howard reportedly got out shooting as he approached the officer. Though wounded, Wallace returned fire but Howard got back in the vehicle and took off with another driver behind the wheel, ASP says.
Officer Wallace died at a local hospital.
U.S. Marshals arrested Howard and 24-year-old Bruce Hillie Friday morning in Mississippi.
Howard is facing a capital murder charge and Hillie a charge of hindering apprehension, police believe he was the getaway driver.
Helena-West Helena Police Chief James Smith said Officer Wallace was a leader in the department he'd been with for five years and called him a "brother who admired this community."
"My condolences go out to the Wallace family and all who were involved in efforts to apprehend both suspects," said Smith. "We must understand that no one has won, although we know our community shall stand strong."