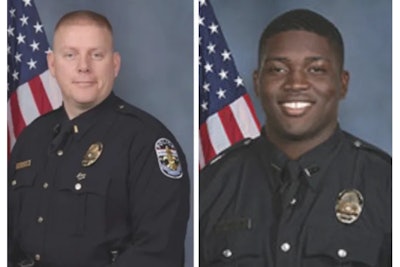 A 26-year-old man accused of shooting two Louisville Metro Police officers in September has been indicted by a Jefferson County grand jury.
Larynzo D. Johnson faces two counts of first-degree assault and 33 counts of first-degree wanton endangerment, a news release from Jefferson Commonwealth's Attorney Tom Wine's office said.
Johnson is alleged to have "fired a handgun at police officers during a protest gathering" on Sept. 23, the news release said. The protesting and rioting was sparked by the decision of a grand jury not to charge the Louisville officers who shot and killed Breonna Taylor.
Two officers — Maj. Aubrey Gregory and Officer Robinson Desroches — were struck and wounded, while other officers and civilians were "endangered by the gun fire," Wine's spokesman, Jeff Cooke, said in the release.
Gregory was shot in the hip, and Desroches was struck in the abdomen.
Johnson is being held on a bond of $1 million and is scheduled for arraignment at noon Nov. 23, USA Today reports.