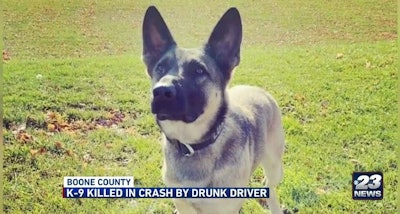 A Boone County (IL) Sheriff's K9 was killed early Sunday morning when the squad car he was riding in was struck by a suspected drunk driver on Interstate 90.
The Boone County Sheriff's Office says at approximately 1:30 a.m. Sunday, Boone County Deputy Robert Rosenkranz and K9 Loki were conducting a traffic stop on the right shoulder of Interstate 90 near Irene Road when a vehicle driven by 53-year-old Vincent Millare struck the rear of the Deputy's squad car.
Deputy Rosenkranz was out of the vehicle and only received minor injuries from flying debris. However, K9 Loki was in the vehicle at the time of the accident and was transported to an Emergency Vet Clinic in Rockford where he died, KWQC reports.