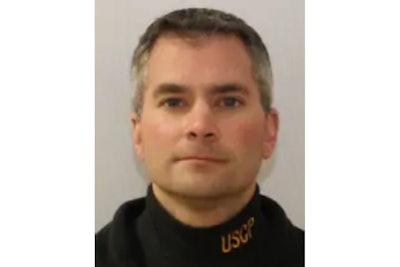 Capitol Police officer Brian Sicknick, who died after the Jan. 6 U.S. Capitol riot, will lie in honor next week in the Capitol Rotunda, according to congressional leadership.
Sicknick, 42, died from injuries he sustained after a mob breached the Capitol. He was reportedly hit in the head with a fire extinguisher during the hours-long fight for control of the building.
A ceremonial arrival will take place Tuesday night, and a viewing period will commence at 10 p.m. for members of the U.S. Capitol Police and continue overnight, USA Today reports.
Sicknick will be buried at Arlington National Cemetery Wednesday.
The tradition of using the Capitol Rotunda to pay tribute to distinguished Americans began in 1852, but historically that honor has been given to military officers and elected officials who have "lain in state." More recently, Congress has allowed pre-eminent citizens to "lie in honor."
Only a few other private citizens have lain in honor, according to a House history of the tradition, including two other Capitol Police officers who died in the line of duty in 1998: Officer Jacob J. Chestnut, Jr., and Detective John M. Gibson.