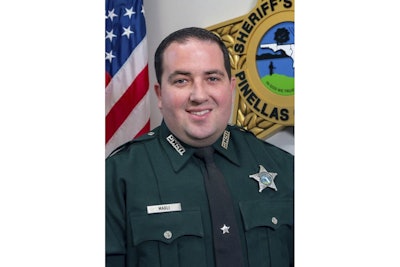 A Pinellas County, FL, Sheriff's deputy was killed Wednesday afternoon as he was trying to stop a drunken driver who was leading deputies on a high-speed pursuit, according to Pinellas County Sheriff Bob Gualtieri.
Deputy Michael Magli, 30, died after he was struck by a pickup truck that spun out in the median of East Lake Road near Forelock Road in north Pinellas County. Magli had parked his patrol cruiser in the median of the road to retrieve and deploy spike strips, when he was struck by the driver deputies were pursuing, Gualtieri said in a Wednesday evening news conference near the site of the crash.
Robert Allen Holzaepfel was arrested by deputies Wednesday night. Gualtieri said Holzaepfel, 33, was driving under the influence and on a suspended license at the time of the crash. He was also on probation and has 16 prior felony convictions, the sheriff said.
Pinellas County jail records show Holzaepfel faces charges of first degree felony murder, DUI manslaughter, driving without a valid license resulting in death and aggravated fleeing and eluding law enforcement, TampaBay.com reports.