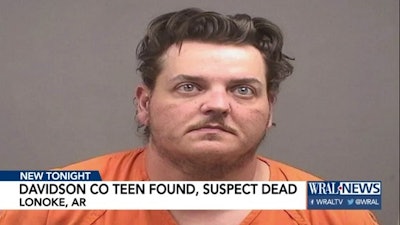 A Lonoke, AR, police officer was critically wounded Sunday night in the rescue of a North Carolina girl who had been abducted.
The officer is in stable condition at a Little Rock Hospital, and 14-year-old Savannah Grace Childress has been returned to her family in Denton, NC, WRAL reports.
The suspect, William Robert Ice, 38, of Jackson Center, PA, died Sunday at a hospital from an apparent self-inflicted gunshot wound.
Police in Lonoke, Ark., which is about 30 miles east of Little Rock, found Ice in a Dodge SUV outside a McDonald's restaurant off Interstate 40 on Saturday.
That led to an exchange of fire and the wounding of one officer.
An Arkansas State Police trooper saw the SUV leaving the parking lot and started pursuing it. Ice eventually drove into a snowbank, where the vehicle became disabled. Childress was able to get out and run to a state trooper.
Troopers approached the vehicle and found Ice slumped over the steering wheel with a gunshot wound to the head.
The girl had talked with Ice online, using her school-issued computer, before she went missing, authorities said. He also was talking with as many as 10 youths online, including two 13-year-olds in Alamance County, NC, authorities said.