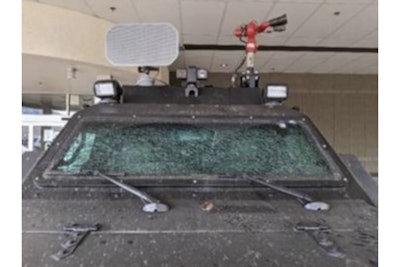 Police say violence and destruction broke out as officers worked to break up a party involving hundreds of people near the University of Colorado Boulder on Saturday.
Police say three officers were injured after they were struck with rocks and bricks. Boulder Police Chief Maris Herold said all the injuries were minor. However, one officer came close to sustaining serious injuries, but a gas mask protected the officer's face from a blunt object thrown at police. At one point, Chief Herold says about 100 people charged at officers.
Videos shared on social media show people flooding a street in an area known as University Hill. Most in the crowd of an estimated 500-800 people were not wearing masks or social distancing despite the coronavirus pandemic, the Denver Channel reports.
At least one car was damaged and flipped over. Police say an armored rescue vehicle and a fire truck sustained heavy damage, as well as other vehicles belonging to residents.
Police used tear gas to break up the crowd. Herold said at least two canisters of tear gas was used and the crowd was mostly dispersed by 8:30 p.m.