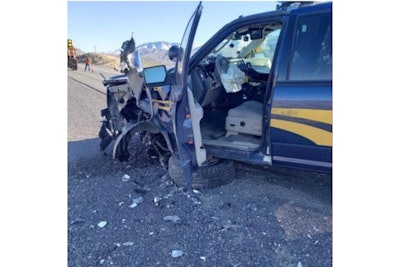 An Oregon State Police trooper collided with a driver heading the wrong way on Interstate 84 in Baker County on Friday, OSP said in a Facebook post. The officer was not seriously injured.
OSP dispatch received a call about a driver in a silver sedan going the wrong way at about 2 p.m. on I-84 near milepost 342, which is between Huntington and Weatherby. The caller said the driver was headed west in one of the eastbound lanes.
Officers were sent to the area to locate the driver. At 2:04 p.m., a senior trooper located the driver and collided with them near milepost 327.
OSP says the driver of the silver sedan suffered minor injuries, and was taken to a hospital for treatment and evaluation. The officer also was taken to the hospital, and later released.