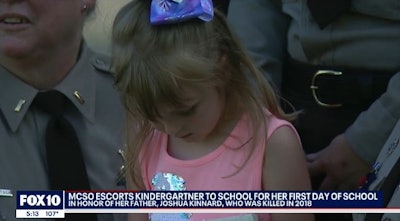 Maricopa County (AZ) Sheriff's deputies and officers from the Gilbert Police Department escorted a seven-year-old girl to her first day of school Wednesday.
Julianna Kinnard's father, Joshua Kinnard, was a detention officer with the MCSO who was killed in a tragic officer-involved shooting in 2018.
Julianna's mother, Maggie, told Fox10 she's grateful for the support and help from the community.
"When Josh passed away, a lot of the officers were like, 'We will be there for her milestones,' and this is one of the biggest ones for her, is the start of her education," Maggie said.
Juliana's father was killed by Gilbert, AZ, police in 2018 in what is believed to be a suicide-by-cop incident. The former marine who served in Iraq was suffering from PTSD at the time, Maggie says.