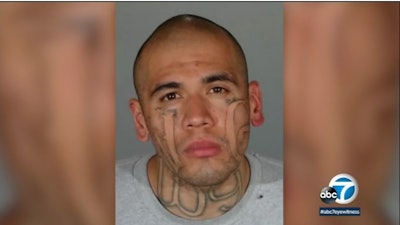 A gang member who shot and killed a Whittier, CA, police officer in 2017 was convicted Wednesday of murder and other counts. He was also convicted of killing another man
Jurors deliberated for less than two hours Tuesday before reaching their verdict in the trial of Michael Christopher Mejia, 30. The verdict was read Wednesday morning, with the panel convicting Mejia of two counts of first-degree murder and single counts of attempted murder, carjacking and possession of a firearm by a felon, ABC7 reports.
Jurors also found true special circumstance allegations of murder of a peace officer—Whittier Officer Keith Boyer--in the performance of his duties, murder for the purpose of avoiding arrest and multiple murders. Jurors also found true gang and gun allegations.
The attempted murder count involved Whittier police Officer Patrick Hazell, who was shot in the abdomen during the attack that killed Officer Boyer.