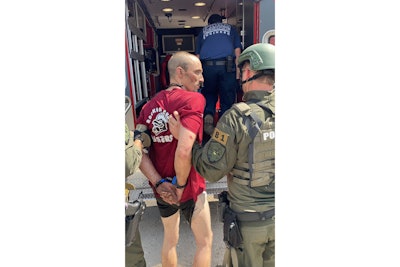 The multi-day manhunt for Patrick McDowell, the man wanted in the deadly shooting of Nassau County (FL) Sheriff's Deputy Joshua Moyers, ended Tuesday.
The 35-year-old has been on the run since Friday, Sept. 24, after he was named as the suspect who shot Moyers twice, including once in the back, during a traffic stop in Callahan, FL. Moyers died of his injuries two days later.
On Tuesday, following a tip, the search for McDowell ended at a baseball field in Callahan, News4Jax reports.
McDowell was hiding inside a concession stand bathroom when deputies swarmed the area. NCSO said McDowell shouted from inside that he wanted to surrender.
During his surrender, according to NCSO, a Jacksonville Sheriff's Office K-9 was unleashed after McDowell failed to fully cooperate with orders given to him by SWAT team members. He suffered bites to one arm.
Last week McDowell was wounded after being shot by deputies who returned fire after the suspect shot a JSO K-9. He was hit twice; once in the thigh, another bullet grazed the top of his head.
A Nassau County spokesperson said McDowell apologized to a deputy after his arrest. McDowell was arrested with Moyers' handcuffs.