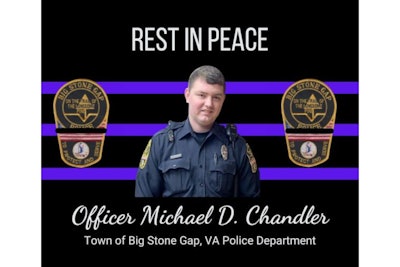 A Big Stone Gap, VA, police officer was shot and mortally wounded during a contact with a suspect on probation early Saturday morning, police say.
Officer Michael Chandler was on duty shortly after 4 a.m. when he was asked to make a check on someone at a vacant house. He was shot and found unconscious in a ditch by a Wise County Sheriff's deputy.
Officer Chandler, 29, died Saturday night in a Johnson City, TN, hospital, Big Stone Gap Police Chief Stephen Hamm said in a statement. It was his birthday, WJHL reports.
A 33-year-old male suspect, Michael Donivan White, was apprehended without incident by officers of the Kingsport (TN) Police Department shortly after 8 p.m. Saturday at a motel," the Virginia State Police report. He is currently being held on probation violations out of South Carolina and Wise County, VA, Charges related to the shooting of the officer are pending at this time. The U.S. Marshals Service, FBI, Wise County Sheriff's Office, and Bristol (VA) Police Department were involved in the investigation.
According to Wise County court records, White was on two years probation for concurrent 10-year suspended sentences for grand larceny and conspiracy to commit grand larceny. White, according to a July 2020 Wise County grand jury indictment, was accused of trying to cash a fake $598 check at a supermarket in August 2019, the Times News reports.