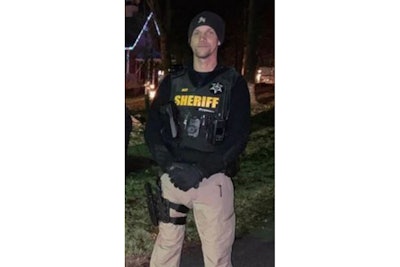 A Wayne County, IL, sheriff's deputy was found dead after he was shot Wednesday morning on I-64.
Authorities say Deputy Sean Riley responded to a motorist assist around 5 a.m. Wednesday on Interstate 64. A backup officer found his body.
The deputy's patrol vehicle was found abandoned, apparently by the shooter, away from the scene, 14News reports.
St. Peters, MO, officers believe the suspect in Deputy Riley's murder may have committed a carjacking and shot a man at a local QuikTrip convenience store. The victim suffered non-life threatening wounds, police told WEVV.
Mt. Carmel, Illinois, Police said, around 12:30 p.m., the suspect was believed to be in a hostage situation in Clinton County, Illinois.
Just before 1:30 p.m., Indiana State Police say the suspect was taken into custody.
The suspect had not been publicly identified by law enforcement at press time.