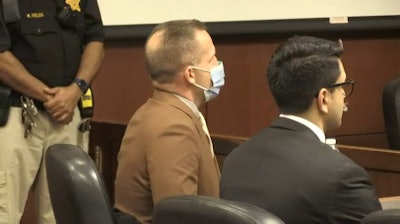 After deliberating three hours, a Jefferson County, KY, jury found ex-Louisville Metro Police detective Brett Hankison not guilty Thursday on three counts of wanton endangerment in the raid that left Breonna Taylor dead in her apartment.
The wanton endangerment trial of Hankison, 45, was sent to a jury of eight men and four women just before noon Thursday after five days of witness testimony and a morning of closing arguments, the Courier Journal reports.
"Not guilty," tweeted retired Sgt. Jonathan Mattingly, who was shot during the raid. "Thank you, Jesus!"
Defense attorney Stew Mathews told reporters, "I think it was absolutely the fact that he was doing his job as a police officer. I'm sort of at a loss for words right now. I think absolutely Brett was, the jury felt like, you go out and perform your duty and your brother officer gets shot, you've got a right to defend yourself. Simple as that."
Hankison fired 10 rounds into Taylor's apartment through a covered glass door and window during the incident. Three of those rounds traveled into an adjacent apartment with a man, pregnant woman and 5-year-old child inside. None of his rounds hit Breonna Taylor.
Though Taylor's death is inextricably linked to Hankison's case, she is not the victim in the trial — which attorneys frequently reminded jurors.
The defense began with attorney Stew Mathews saying to the jury Breonna Taylor should not have died, but this case isn't about her death, WHAS reports.
No officers were charged with Taylor's death.