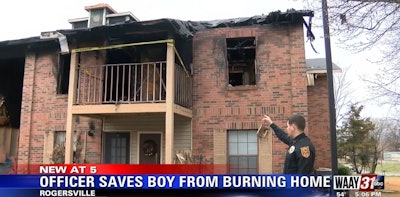 A 24-year-old Rogersville, AL, police officer rescued a 3-year-old boy trapped in a burning apartment building Sunday.
Officer Tyler Dison's shift was wrapping up early Sunday morning when he heard, "apartments on fire with possible entrapment of a child."
He rushed to the scene and ran toward the blaze, WAAY reports.
"It was less than 30 seconds, I got out of my car, she was screaming 'My baby's inside!'," said Dison.
Dison, who started his public safety career as a firefighter, recalls only one thing was on his mind at that point, "I gotta save this child at all costs," he said.
Within minutes of running into the blaze, Dison came back out with the boy.
"His breathing was very shallow, he was very lethargic. He was groaning, he wasn't really responding," Dison said, telling WAAY the child would not have survived much longer.
Dison sustained minor injuries and his uniform was singed from the blaze.
The child was rushed to the hospital with burns but is now recovering. "I'm just blessed that, that baby is doing OK," said Dison.
The man charged with setting the house on fire is Jared Hazelwood, father of the toddler Dison saved.