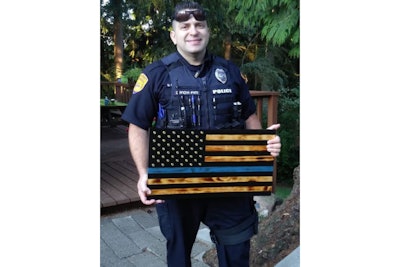 An Everett, WA, police officer was killed in the line of duty during a an incident outside of a Starbucks in Everett on Friday, according to the Everett Police Department.
According to Snohomish County Sheriff's Office spokesperson Courtney O'Keefe, Officer Dan Rocha approached a 50-year-old man who was acting suspiciously in the parking lot of a Starbucks at about 2 p.m., KIRO7 reports.
There was an altercation, and Rocha was shot and killed.
O'Keefe said the man fled in a car, running over Rocha's body.
Rocha, 41, had lived in Everett for over a decade and served with the Everett Police Department since 2017. He first worked in parking enforcement and in 2018 became a fully commissioned police officer, the Everett Police Department said on Facebook.
Officer Rocha is survived by his wife, two sons and large extended family.