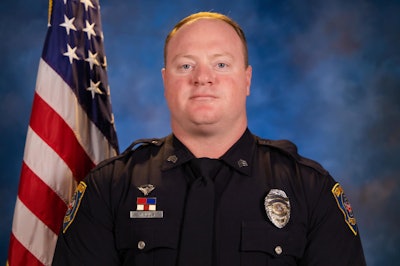 An Edmond Police Department (OK) motorcycle officer is still hospitalized after being struck by a fleeing suspect Friday. A 16-year veteran of the department, Sgt. Joseph Wells, was injured at the end of a pursuit.
The Oklahoma City Police Department is investigating both the collision and a related officer-involved shooting. Police report Wells was injured as a result of the pursuit of a suspected drunk driver who had caused multiple wrecks in the city limits of Edmond.
The suspect drove toward Wells as he was stationary in the roadway. The officer fired one round at the suspect's vehicle, but the suspect was not struck. The suspect's vehicle struck both Wells and his motorcycle, police say. After the impact, the suspect vehicle came to rest on the side of the road.
Police arrested 24-year-old Garrett Trammell and he was booked into the Oklahoma County Detention Center on multiple charges.
The Edmond Police Department said Wells was in critical condition following the collision and that he will face a long recovery process. Sunday, Edmond police held a prayer vigil outside the police department and asked for the community's continued support for Wells and his family.