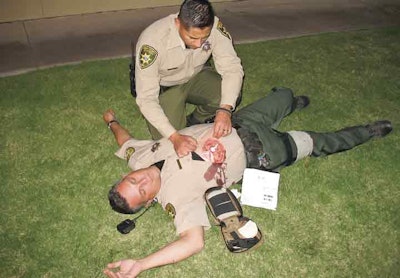 Saturday January 8, 2011, Tucson, Ariz., 10:10 a.m.: A gunman walks into a gathering held by Rep. Gabrielle Giffords at a supermarket and opens fire. Giffords and 12 other people are shot. The gunman walks away. Citizens tackle the gunman and disarm him.
10:11 a.m.: The Pima County Sheriff's Department receives a 911 call advising of a shooting at the shopping center.
10:14 a.m.: Dep. Thomas Audetat arrives on the scene and takes the gunman into custody.
10:16 a.m.: Dep. Gilbert Caudillo arrives on scene and, after ascertaining the gunman is in custody, tells dispatch, "Send every medical unit you've got." Caudillo begins to triage the wounded.
10:18 a.m.: Other deputies arrive, secure the scene, search for additional suspects, and coordinate incoming resources.
10:23 a.m.: Emergency Medical Service personnel arrive and begin treating patients. Ground ambulance and air ambulance units take patients to local hospitals.
11:01 a.m.: All patients transported from scene.
Seconds Count
This timeline of a 2011 active shooter attack in Tucson reveals that seconds count during a mass casualty incident.
In the 47 minutes deputies were with the injured at the scene, they treated 10 victims. They controlled bleeding, provided rescue breathing, provided chest compression, used hemostatic agents, and bandaged wounds. The procedures and equipment used by the Pima County deputies resulted in at least three lives being saved.
Unfortunately, few police agencies have provided officers with the kinds of emergency medical training needed to save lives following a critical incident.
And it is sorely needed. It can take time for Emergency Medical Services (EMS) to arrive on scene. During that time law enforcement officers may be the only medical care available. So officers need to be trained to supply that care, as they were in Tucson.
The U.S. military has determined the major causes of preventable death on the battlefield:
Hemorrhage from extremity wounds
Tension pneumothorax
Airway problems
Each of these traumas is also common during critical incidents. Fortunately, they can be managed using relatively simple techniques and minimal equipment. Unfortunately, use of these techniques and equipment is rarely taught to officers.
In-Service Training
A few years back the leadership of the Pima County Sheriff's Department acknowledged the need for global medical training for all staff with "feet on the street."
The medical training program called "The First Five Minutes" was developed by the authors of this article working in consultation with Dr. Richard Carmona, former surgeon general of the United States and former Pima County Sheriff's Department SWAT team leader and medical director. It draws on elements of the U.S. military's "Trauma Combat Casualty Care" and results from research conducted by The VALOR Project. The program was taught to all Pima County SD sworn personnel in 2009.
While certainly not the first medical program taught to agency first responders, the goal of the "The First Five Minutes" program is somewhat different than other medical training provided to officers. It's designed to give officers the training necessary to save themselves or others in life-threatening emergencies.
Survival Kit
Officer safety and tactical considerations are incorporated into every aspect of the "The First Five Minutes" lesson plan. Officers are reminded that they are police officers first.
The introduction to the class relates the importance of providing immediate medical care to the downed officer. The emphasis is not on first aid, it's on survival.
The Law Enforcement Individual First Aid Kit is given to students at the beginning of the class. This kit includes:
A zippered bag with interior elastic straps for holding contents in place. The exterior of the bag has a MOLLE system both front and back for multiple attachment points
Trauma shears
Emergency bandages
Package of Combat Gauze
Asherman Chest Seal
CAT or SOF tourniquet
While the purpose of the kit is for treating fellow police officers, deputies are told to use their discretion and utilize the kit on injured civilians when they feel it is necessary.
Making Contact
Scene safety is the opening topic. Officers are reminded of the elements of safe arrival and evaluation of the location. Driving techniques, listening to dispatch information, knowing local resources, and being familiar with routes are discussed.
Contacting the injured officer is the next topic. Entering the scene carefully and locating the injured officer are the primary responsibilities of the responding officer. If threats are unknown, the responding officer is instructed to stay behind cover and make verbal contact with the injured officer.
Officers are given instruction in the "Care Behind Cover" concept. Evaluating the mental status of the injured officer is their first medical responsibility. Altered mental states due to blood loss and oxygen deprivation are discussed. It may be necessary to take the victim officer's weapon if his or her thought process appears to be altered.
Officers are taught to speak with an injured officer and evaluate the response, and how it may relate to the circumstances. Any changes in mental status are given the highest of priorities.
Students are also taught to perform a 90-second assessment of the situation and focus on hemorrhage control techniques and identification of shock. At the end of the assessment, students are asked to make a transport decision: Do they stay at the scene and wait for EMS or transport?
Body substance isolation is discussed in real-world applications. The inevitability of contacting another officer's blood in a downed officer rescue is discussed. Officers are given the basic information concerning communicable diseases and how to prevent transfer. An exercise in putting on latex gloves and taking them off the proper way is demonstrated and practiced. Once the officers have donned gloves, ketchup is spread over the palms of the gloves and officers must take the gloves off without getting ketchup spray on them. This exercise provides a very graphic illustration of how easy it can be to come in contact with someone's blood.
ABC
The importance of an open airway, breathing, and circulation is emphasized from the beginning of the class. Officers are taught that the obvious injury may not be the most lethal. Officers are instructed about the need to first establish the status of these basics before proceeding to treat any other injuries.
Radial and carotid pulse checks, as well as skin temperature and level of consciousness, are used for evaluation of circulatory status. Cerebral Cardio Resuscitation (CCR) and Cardio Pulmonary Resuscitation (CPR) are compared and the advantages and disadvantages of both are discussed. Chest compressions are taught. Officers practice one-person CCR, one-person CPR, and two-person CPR using a barrier device to protect the caregiver.
Techniques for clearing the airways of patients are demonstrated. Officers practice techniques for clearing the airway of a conscious person. Unconscious choking is addressed with CPR.
The chief complaint or obvious injury is discussed, along with how it relates to treatment priorities. Officers are encouraged to practice visual surveys during lighted situations and shown how to use their hands for a patient survey in low-light situations. It is stressed that these evaluations should ideally be completed in less than one minute.
Direct pressure, elevation, clotting agents, and tourniquets are taught for bleeding control. For minor or venous bleeding, an Emergency Bandage is used to treat an injured officer not involved in an ongoing tactical operation. Major bleeding is controlled with the use of clotting agents and a pressure bandage. Tourniquet application is taught for bleeding not controlled by other means, or when the situation demands bleeding control be accomplished immediately.
Transferring the Patient
The signs and symptoms of shock are taught with emphasis on mental status changes. The importance of recognizing shock, other than through blood loss, is stressed as an early warning sign for prevention of future complications. Treatment includes keeping the wounded officer warm and calm.
A wounded officer can come to rest in a variety of body positions, but the only way to completely survey wounded officers is to place them on their backs. A rapid simple method is taught to move officers onto their backs while maintaining cervical spine precautions.
Finally, officers are taught how to transfer care of the injured to EMS. Officers are told to report to EMS personnel the nature of the injury, mental status, mental status changes, airway control, rates of breathing and circulation, what injuries they saw, what injuries they fixed, how they did it, and any unusual findings.
At the conclusion of the training, the students' skills are evaluated through scenarios. Two evaluators are used for each scenario: one evaluates officer safety, use of cover and concealment, tactical movement, and other skills related to police work; the second evaluates the medical triage and care provided to the victim.
Not all law enforcement agencies consider first aid a part of a police officer's job. However, a wounded officer scenario or a scenario in which officers respond well in advance of EMS on a mass casualty incident requires immediate action. Consequently, all officers should have the necessary training and equipment to provide on-scene emergency medical care.
Dr. Tammy Kastre is a board-certified emergency room physician and medical director for Pima Regional SWAT in Pima County, Ariz. David Kleinman is a detective with the Arizona Department of Public Safety and is a tactical paramedic.