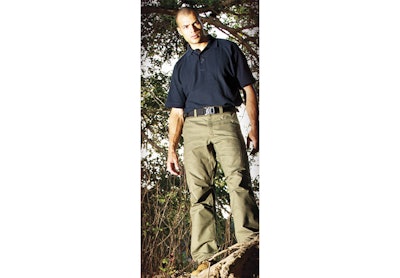 Not too long ago Fechheimer—maker of Flying Cross duty uniforms—decided to produce a new line of tactical clothing. Through a collaborative effort with outdoor clothing company Arc'teryx, a new company called Vertx was born. Vertx's mission is to produce "functionally advanced clothing for the operational athlete."
For this review Vertx sent me a few pairs of Phantom LT pants and one ColdBlack polo shirt. Now, I am not a "rack fit" and often have to have shirts and pants tailored before they're wearable. With this in mind I wasn't optimistic about the fit of the Vertx, even though the company sent me the sizes I requested. But I was surprised. The pants and the polo fit perfectly; no pins and chalk needed here. Both provided a comfortable athletic fit that was professional and clean.
I'll start with the polo. The proprietary ColdBlack material was named one of Popular Science's "Top Innovations of 2008" and provides several benefits over traditional fabric. The 100% polyester fabric breathes very well and wicks moisture away from the body to keep you cool. ColdBlack technology reflects up to 80% of the sun's rays and blocks UV light, helping the cooling process while protecting you from the sun's harmful rays.
That sounds like a lot of advertising claims, and I have to admit I thought the shirt's performance was probably exaggerated, but I found out it does what Vertx says it will do. I wore this shirt in my daily polo rotation for several weeks and was very impressed. My example was black, and I stood outside in it in the Arizona summer sun. If ever a polo with these claims would fail, it would be black and tested on an Arizona July day. But the Vertx polo came through strong.
Now for the pants. I've had more pairs of "tactical pants" than I can count and most of them have been given away after I wore them only once or twice. Like I said, I'm just not a rack fit.
When I look for a quality pair of tactical pants I want a few specific things. First, they must fit right. I don't want them overly baggy or too restrictive. I need them to be comfortable and provide freedom of movement but look tailored enough for duty wear. The Phantom LTs provide all of this. The poly/cotton blend is light and durable and incorporates Vertx' Intelli-Dry technology, which wicks moisture from the skin while repelling moisture and stains from the outside. The waist incorporates small elastic sections for a variable and snug fit. I would compare the fit and style to a good pair of relaxed-fit jeans.
As with any good pair of tactical pants the Phantom LTs provide a variety of pockets to carry an abundance of gear. The front and back pockets are deep and easily accessible and the side cargo pockets are compartmentalized for items of various size. All of the pockets are incorporated into the profile of the pants, which creates a very clean and sleek look without sacrificing capacity. No baggy BDU pockets here.
As Vertx was kind enough to provide me with more than one pair, I have been wearing the Phantom LTs to work every day since they arrived several weeks ago. They've experienced an abundance of hard training days on the range, as well as more than enough time around the office. I've washed them, dried them, and done my best to instill that "broken-in" look to no avail. It's safe to say I've been anything but careful. Yet, they look and fit the same as they did when I pulled off the tags. This isn't something I've experienced before in any of my previous pairs. Bravo Vertx.
I've since picked up a few more of the ColdBlack polos to go with my Phantom LT pants, and I now wear nothing else on duty. I'm convinced Vertx has a winner with both and would strongly recommend them to anyone in the market for durable and comfortable tactical clothing.
Vertx ColdBlack Polo Specs:
6.5 ounce performance knit polyester
No fade fabric
30 SPF UV protection
100% moisture wicking
Price: $52.95
Vertx Phantom LT Pants Specs:
65/35 poly/cotton
Rip-stop fabric
Wrinkle resistant
Machine washable
Deep dye for color retention
Intelli-Dry technology for stain resistance, moisture wicking, and liquid repellence.
Price: $54.95
A.J. George is an officer with the Scottsdale (Ariz.) Police Department currently assigned to the advanced training unit as a firearms and tactics instructor.