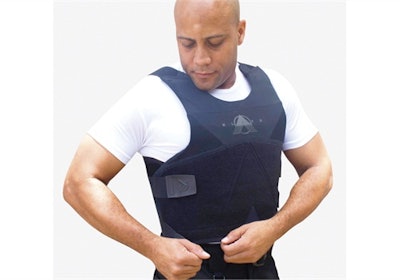 Back in 2008 the National Institute of Justice released a new body armor certification standard called NIJ .06. Armor manufacturers said when the NIJ .06 standard was first established that in order to pass the testing they would need to produce stiffer, heavier, thicker, and ultimately less comfortable vests. Some believed it would be nearly impossible to make NIJ .06-certified armor that could even remotely be referred to as comfortable.
But sometimes the nearly impossible can be accomplished. By using a wide variety of new ballistic materials and through proprietary design technologies, the makers of soft body armor are starting to produce some innovative vests that meet the NIJ .06 standard, provide excellent threat protection, and give wearers improved comfort.
Three of these products were introduced at this year's Shooting, Hunting, and Outdoor Trade (SHOT) Show. The following is a look at innovations by some leading manufacturers and the armor that you may soon be wearing on the job.
It's not unusual for new technologies in law enforcement to filter down from defense applications. That's partially what happened with Point Blank's new Alpha Elite armor. It came about through a working relationship between Point Blank and ballistic material manufacturer DSM on a bid to make a U.S. SOCOM vest. During the work on the SOCOM project, Point Blank gained experience producing armor using DSM's new Dyneema Force Multiplier Technology ballistic material. And once the military project was complete, Point Blank realized Dyneema Force Multiplier held great promise for law enforcement armor. A year later Point Blank submitted the Alpha Elite line of armor featuring Dyneema Force Multiplier for NIJ certification.
Point Blank says the Alpha Elite line is the lightest NIJ .06-certified Level II and Level IIIA armor on the market. Michael Foreman, Point Blank's vice president of government and international sales, says Force Multiplier was key to Alpha Elite's light weight. "This form of Dyneema material offers similar characteristics to other Dyneema materials produced in the past, but the breakthrough is that it's thinner, lighter, and stronger," he explains.
Foreman, a 40-year veteran of law enforcement, is well aware of the importance of officers having confidence in their armor, and he proudly says that Alpha Elite armor is not just thinner and lighter than comparable armor, it also offers the wearer excellent protection. In addition to NIJ .06 certification, Alpha Elite ballistic panels surpassed the FBI's multi-hit and special threat standards, and they have been submitted for international testing. "We took this to Germany and had it tested to the German standards. It's the lightest and thinnest armor to pass the German testing," Foreman says, explaining that the German testing protocols are even more rigorous than the NIJ .06 certification protocols.
Another selling point for the Alpha Elite, according to Foreman, is its flexibility. He says the flexibility can be attributed to both the properties of the Dyneema Force Multiplier Technology material and the armor engineering expertise of Point Blank. "We tested hundreds of panels to maximize the solution and achieve these results," he says.
Alpha Elite is available in concealed and tactical packages for both male and female officers, and Foreman says demonstrations of the armor's comfort and performance have led to strong demand. He says that after one demonstration a sheriff told his purchasing officer to buy it immediately. "We never saw that when we introduced other ballistic options in the past."
One of the major selling points for The Safariland Group's Second Chance New Summit (SM02) line of body armor is that it's more comfortable for the wearer than the company's first Summit (SM01) models. But Tim O'Brien, The Safariland Group's category director for concealable body armor, says performance has not been sacrificed for comfort. "Our philosophy at The Safariland Group is to make the best products for the safety of law enforcement," he adds.
To make the New Summit, The Safariland Group assembled an all-star team of material manufacturers, engineers, designers, and weavers. "We sat them down and said, 'We have a great product now, but how do we take it to the next level? How do we get it to be thinner and lighter without sacrificing the flexibility and the softness?" O'Brien says.
Constructed of Teijin's Twaron and Honeywell's Spectra Shield and Gold Shield, the New Summit was hybrid engineered using fifth-generation Core Matrix Technology from Tex Tech. It is available in Level II and Level IIIA concealable packages for men and women. "We spent a lot of time on the female version," O'Brien says. "It has a much more curved radius approach that's nicer for the female shape [than our previous Summit models], and it offers the same layer count and performance as our male vests."
O'Brien says the New Summit armor is not only thin, light, and flexible, it is also the softest Level II and Level IIIA NIJ .06-certified armor on the market. But he admits that softness is a subjective value. "There's no scientific test for softness, so we rely on officer feedback from the real world," he says. "Body armor is always about wearing an extra layer, often on hot days, so there's only so much we can do about that. But what we can do is make it thinner and lighter but also softer and more flexible."
The latest ballistic package from U.S. Armor is the Enforcer 6000, which the company says weighs in at less than a pound per square foot, making it one of the lightest NIJ .06-certified vests on the market.
Chad Keller, U.S. Armor's marketing director, says the company cut weight and thickness on the Enforcer 6000 through "innovative layering" of Honeywell and DuPont aramid materials. Specifically, the ballistic panels are composed of Honeywell Gold Shield and Spectra Shield and two different types of DuPont Kevlar.
The Enforcer 6000's flexibility is also a benefit of the advanced materials that were used in its construction, according to Keller. "The new types of aramid materials that are now available are more malleable than their predecessors," he explains.
U.S. Armor has mated the Enforcer 6000 Level IIIA package with two innovative new carriers: the CuTec Copper Thread and the Outlast Heat Management.
The Cutec Copper Thread carrier was developed to meet the needs of officers who suffer from heat rash caused by the armor panels they wear all day. Keller says the need for a carrier that prevents heat rash and other skin conditions in officers stemmed from the establishment of the waterproofing requirement in the NIJ .06 certification standards because the waterproofing material reflects more heat. The CuTec Copper carrier actually has copper thread sewn into the interior fabric that lies closest to the officer's skin. Copper has long been known for having anti-fungal and antibacterial properties, and Keller says the carrier has helped relieved the rashes of afflicted officers who have worn it.
While the rash problem only affects some officers, almost every officer who wears concealable armor suffers from feeling too hot. The Outlast Heat Management carrier has been demonstrated to cut that heat. It features Outlast, a material with unusual thermal properties that NASA has incorporated into space suits. It will cool someone who is hot and warm someone who is cold, according to Keller. "We've had really strong response from officers who have tried it," Keller says. "They can feel the cooling effect almost immediately."
For More Information: