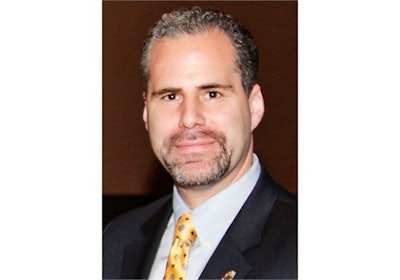 On Sept. 11, 2001, 72 officers were killed in the line of duty. But they were not the only law enforcement casualties of 9/11. Today, 13 years after the attacks, officers continue to die from exposure to the toxins that were released by the destruction of the World Trade Center towers.
More than 60 cases of officers whose deaths from cancer can be attributed to 9/11 toxins have been filed with the Department of Justice's Public Safety Officer Benefit (PSOB) program. The PSOB program supports the surviving family members of fallen heroes with a one-time payment for a line-of-duty fatality (the current payment is $333,604). Additionally, there are an equal number of cases pending before the National Law Enforcement Officers Memorial Fund's (NLEOMF) "Names Committee," which reviews applications in consideration of a fallen officer's name being added to the Memorial Wall in Washington, D.C.
Why are these cases still pending? As someone who is privileged to serve on both the NLEOMF Names Committee and the PSOB Working Group, I can give you some insight.
Like Agent Orange that poisoned Vietnam veterans, the 9/11 toxins are silent killers that don't necessarily leave a medical forensic trail. Medical consultants for both the PSOB and NLEOMF Names Committee have been reluctant to conclude that toxin exposure of any kind can be linked as a direct cause of an officer's cancer. Whether it's the case of fallen Provo, Utah, Police Officer Trent Halladay, who sustained substantial toxin exposure during the execution of meth warrants, or that of NYPD Sgt. Edward "Ned" Thompson, who was exposed to the lethal toxins at Ground "Hero," medical experts struggle with connecting the exposure to the fatality even though Thompson and Halladay both were in relatively good health and were not smokers.
An NLEOMF medical consultant wrote in a letter responding to Sgt. Thompson's family that she is "…unable to find causation between cancers and exposures to noxious elements at the World Trade Center site." I know that the medical consultant diligently researches medical journals for comparative cases, but I wonder what cases are comparable. Are there other examples of officers being exposed to the toxins released by the catastrophic collapse of multiple buildings, including two skyscrapers of 110 floors?
In contrast, Congress has recognized officers who contracted cancer after responding to 9/11 as casualties of the attack. In 2010 Congress provided funding for the medical screening and treatment of 9/11 first responders. Since then, World Trade Center Health Program Administrator Dr. John Howard, M.D., has led a committee evaluating specific medical research and current findings on the impact of 9/11 toxin exposure. Howard's published findings (www.cdc.gov/wtc/coveredcancers.html) list 59 forms of cancer that are covered by the WTC Health Program. On May 1, 2013, Howard also published research findings showing the minimum latency periods for the covered cancers. The latency period is a measurement of the time from the initial exposure to the time a patient is diagnosed with cancer. Officers who responded to 9/11 and have been diagnosed with cancer within the parameters of the latency periods are being treated by the federally funded World Trade Center Health Program.
In addition, the NYPD has submitted documentation to both the PSOB and NLEOMF endorsing the department's 9/11 responder cancer and other toxin-related illness fatalities as line of duty deaths. Unfortunately, out of these only four NYPD 9/11 responder cases have been accepted by the NLEOMF and the PSOB as line of duty deaths and none of them had cancer.
But there is some hope of changing that.
Both the NLEOMF Names Committee and the PSOB will be convening meetings with Dr. Howard and other experts to address current research findings. I'm optimistic that they'll embrace Howard's findings. Maybe both can draw inspiration from the spirit of what fallen warrior Sgt. Edward "Ted" Thompson stated before passing: "Nothing could have kept me away that day…or the days thereafter."
These officers paid the ultimate price for their dedication. It's time to honor their sacrifices this year as we commemorate the 13th anniversary of the 9/11 attacks.