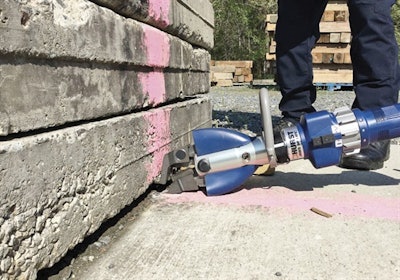 Back in the 1960s Hurst Performance—makers of the iconic Hurst shifter for manual transmission muscle cars—developed a hydraulic rescue tool to help emergency responders extricate drivers from wrecked race cars. Soon the Hurst tool was dubbed the "Jaws of Life," and it became must-have equipment for firefighters and emergency medical personnel responding to street and highway wrecks where people are pinned in vehicles.
The first Hurst hydraulic rescue tools were large, gas-powered devices that made massive amounts of noise as they cut and spread automotive sheet metal. Now more than 40 years later Hurst Jaws of Life is making battery-powered hydraulic rescue tools that are much smaller and much more quiet. And the company is about to launch its first-ever tool for law enforcement operations, the StrongArm.
The StrongArm is a lightweight (25 pounds without power pack), compact (about 31 inches long) battery-driven hydraulic tool. It can break open metal or wooden doors and cut through chains, rebar, security bars, and even two-by-fours.
Hurst originally developed the StrongArm for use by firefighters who rescue downed firefighters from burning buildings. Bruce Johnston, director of marketing and product management for Hurst Jaws of Life, says the StrongArm can replace five to seven standard firefighting tools, including crowbars, Halligan tools, axes, and wire cutters.
Johnston says that during the two-year-long process of the StrongArm's development, Hurst realized the tool would also be useful for law enforcement officers. "StrongArm is a game-changer," says Johnston. "Customarily, police and SWAT teams have an arsenal of tools to choose from in the field, but StrongArm truly does it all. It breaks down doors in seconds, pries open car doors, and cuts through rebar, security bars, and locks."
The StrongArm can also help officers respond more effectively to vehicle accidents. "Our research shows that law enforcement officers are often the first on the scene of serious accidents and they need a tool that can help extricate people from their vehicles," says Johnston.
There are, of course, limits to what an officer equipped with the StrongArm can do at an accident scene. It will not cut through a vehicle like a larger Jaws of Life tool, but it will quickly open a bent and jammed vehicle door so that an officer can free a trapped accident victim. The StrongArm can also be used to open sealed compartments in a vehicle that is suspected of being used for smuggling.
Features of the StrongArm include two tool tips, a combination tip for cutting and spreading, and a door opener tip for lifting, breaking, or bending metal and wood doors. A four-position handle allows officers to maneuver the tool into hard-to-reach locations. Another interesting feature on the StrongArm is a Picatinny rail. "We thought about building in a light, but we discovered that officers prefer to use their own lights on the StrongArm," says Johnston.
The StrongArm comes with two battery packs. Actual usable runtime per battery is 30 minutes. Johnston says the battery also recharges in 2.5 hours. The batteries do not discharge when not in use, and they can be recharged for 500 cycles.
Johnston says the StrongArm was designed to be carried in one hand. "It's the lightest tool we have in our line," he adds. "We see this as a tool for the trunk of every law enforcement patrol car and for every fire truck."
The StrongArm has a list price of $6,850. It will be available later this month or early August.