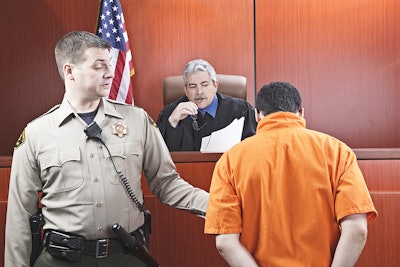 Last month a bomb exploded in the driveway of an Indiana judge's home. It was just one of the many attempts to intimidate or harm a judge that occurs each year. This is why New Jersey has developed a new approach to judicial security that could be a model for the rest of the country.
In February of 2015, courthouse managers and law enforcement officers from all 21 sheriff's offices and other agencies in the Garden State attended the inaugural New Jersey Judiciary Security Management Response Team (NJ JSMART) training course. This initiative was designed to teach law enforcement personnel effective threat recognition and management techniques in order to enhance judicial security.
NJ JSMART was conceived by protective investigators from the United States Marshals Service, District of New Jersey, in conjunction with the Somerset County Sheriff's Office, New Jersey State Police, and the Court & Judicial Security Unit of the State Judiciary. The program utilizes a common sense approach to address intelligence gaps caused by "institutional myopia," the tendency for organizations to focus inward and overlook broader patterns and trends.
The five core elements of the program—training, networking, task forcing, creation of a database, and outreach—have been designed to work in tandem to heighten security awareness by strengthening existing partnerships and creating new relationships.
The inaugural seminar was designed as an introduction to NJ JSMART's structure, approach, and scope. It also served as a preview for how the program is envisioned to evolve in the future. Participants learned a variety of fundamental concepts and were provided a broad overview of protective intelligence; court and judicial security; and threat recognition, investigation, and mitigation. A common theme stressed throughout the training was the importance of cooperation, collaboration, and coordination among agencies.
Speakers included law enforcement officers, judiciary personnel, mental health workers, and government contractors. They presented sessions on court security and decorum, security audits and vulnerability assessments, mental health recognition and screening law, the role of the judiciary, and the value of databases and suspicious activity reporting. A number of case studies were presented to emphasize important concepts and the inclusion of some locally occurring incidents further helped engage the participants.
The program divides the state into three regions in order to more effectively implement its strategies, disseminate information, and foster productive relationships. Each region is led by a regional coordinator, who hosts regular info-sharing meetings. These meetings allow members in each region to keep abreast of the latest ecurity trends and help facilitate greater networking.
In order to facilitate the dissemination of protective intelligence, the steering committee has created templates for a variety of security and Intelligence products. These are designed to highlight subjects of protective interest, warn about incidents that may impact routine courthouse operations, and identify issues that may affect personal safety or security. Each county is encouraged to disseminate items of localized interest using those standardized templates. The committee also periodically publishes "Situational Awareness Bulletins" based upon trends that suggest current or emerging threat streams; perceived or actual threats to facilities; or upon receipt of pertinent intelligence from other law enforcement agencies.
In addition to encouraging intelligence sharing between counties and promoting more transparent communications between sheriff's offices and judiciary staff, NJ JSMART seeks to emulate the success of the U.S. Marshals Service Regional Fugitive Task Forces. By fostering real working relationships and conducting joint training, both protective investigations and protective operations will be strengthened and streamlined.
A proprietary, Web-based database known as SAMS (Suspicious Activity Monitoring System) is another integral part of the program. SAMS has been created to collect and house suspicious activity, reportable incidents, and other notable events. The database will also facilitate better tracking of individuals who may pose a security concern or are subjects of protective interest. SAMS is user-friendly, compatible with various browsers, and can be accessed from smartphones and other mobile devices.
The outreach portion of the program focuses on both the county prosecutor's offices and the municipal judges. It recognizes the role of the prosecutor's office in the criminal justice system, addresses the principles of target transfer, and acknowledges the fact that many prosecutors' offices are co-located within county courthouse facilities. In addition, since policy oversight for the security of municipal courts falls under the authority of the state judiciary, NJ JSMART representatives will coordinate with municipal court judges and local chiefs of police regarding general principles of threat recognition and appropriate protective measures. They will also provide mentorship, advice, and assistance as needed.
Since another goal of NJ JSMART is to provide continuing training opportunities, future instructional seminars are anticipated on a variety of relevant topics. One highly demanded topic of instruction identified by the program's post-training surveys was that of protective operations. This is not surprising given that sheriff's offices are responsible for protecting Superior Court judges who have been threatened. In response to the overwhelming interest for this type of training, NJ JSMART is currently preparing a comprehensive curriculum and identifying subject matter experts to present the selected material.
The NJ JSMART committee is also in the process of partnering with the judiciary to conduct a "Judicial Security Workshop" with the goal of educating members of the judiciary about sound personal protective measures both in the courtroom and offsite. That curriculum will consist of short blocks of instruction and an interactive "round-table" session, focusing on ways for judges to increase their situational awareness, work more closely with their sheriff's offices, and create an atmosphere of enhanced security. Several assignment judges will participate, both as presenters and as moderators.
Since inception, NJ JSMART has received enthusiastic and widespread support from its law enforcement partners and the judiciary alike. The program has already facilitated a number of multi-jurisdictional investigations and enabled several successful joint collaborations.
This multi-jurisdictional cooperation is reflected in the statements of two law enforcement officials who support the NJ JSMART program.
"On behalf of the Sheriffs' Association of New Jersey, I would like to thank the U.S. Marshals Service, New Jersey State Police, and the Administrator of New Jersey courts for partnering with us for one common goal—the safety and security of the judiciary and all citizens entering our superior courts," says Somerset County Sheriff Frank J. Provenzano.
The Marshals Service also has expressed its support for the program. "In today's climate, strict reliance on a "need to know" mentality can hamper collective security efforts. Security is a shared responsibility and to that end, the JSMART initiative helps protect the integrity of our judicial system through a truly collaborative process," says U.S. Marshal Juan Mattos Jr. of the District of New Jersey.
Currently, NJ JSMART is slated to be incorporated into the state's "Model Court Security Plan," which will further extend the program's scope. NJ JSMART will continue to evolve to meet the needs of the judiciary and adapt to the changing nature of threats posed to our judicial system statewide.
For more information on NJ JSMART or if interested in starting a similar program in your state, call (908) 231-7429 or e-mail jsmart@co.somerset.nj.us
Senior Inspector Paul Safier of the U.S. Marshals Service, Captain Rick Cima of the Somerset County Sheriff's Office, and Chief Robin Morante of the Court and Judicial Security Unit of the New Jersey Judiciary administer the NJ JSMART program in cooperation with the New Jersey State Police Central Security Unit.